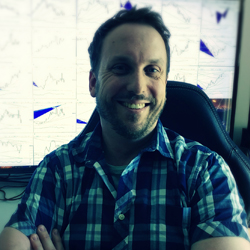 Alex is the primary mentor at The Trading Mentor. After 6 years of trading and mentoring with Michael Storm as his protégé, Alex took over Michael's team and mentoring in May 2022 and continues to provide his team and new members with the same traditional high standard training that came before him. 
My name is Alex and I am a professional independent trader, social entrepreneur and father.
I have studied the financial markets for as long as I can remember. My passion for macroeconomics and trading/investing began during my university studies in the 90s, consolidated during my stock trading days in the early 2000s and has continued strong all the way into present day.
My professional "9 to 5" career had been dedicated to social causes and non profit fundraising until I moved to Southern France in 2011. It was then that I decided to pursue my dream as a real vocation. During the next few years I dedicated over 10,000 hours to training, reading and learning from the best mentors I could get a hold of, Michael Storm included. My goal was to find that perfect balance between a career I loved and the ability to financially support a family.
After what I can only describe as the hardest journey of my life, I can say I reached my destination. I specialized in the FX and commodities markets and have never looked back. I am an independent financial markets trader since 2014.
One of the things that marked me the most throughout my "epic quest" to become a trader and beat that horrific 95% failure rate attributed to this industry, was how difficult it was to find the information I needed to keep growing. There were broker and marketing scams at every corner and the information was buried neck deep in thousands of hours of useless courses and misguided traders; scouring hundreds of sites and dozens of books was all well and good if all I wanted was to learn theory.
I also found it extremely difficult to find mentors for all stages of my development. The people I was interested in were either too busy or too expensive but I knew I needed a guiding hand no matter how well I thought I could do on my own. I needed to absorb information and pick the brains of people who had been doing this professionally at all levels so I could enter the markets with confidence and control. When I did find willing mentors, I learned from independent retail traders, from professional prop firm traders and from institutional traders; I needed everyone's perspective in order to form my own.
In the end, it is true what they say. It is the hardest thing you will ever do… but it is so worth it. I am a father of three beautiful daughters, live in my dream location, and I am enjoying the simple things in life now more than ever. Happiness has always been my goal and the happiness of those around me has always been my catalyst.